Flight Calls of Migratory Birds
Eastern North American Landbirds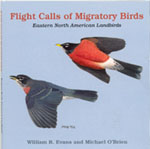 This multimedia CD-ROM reference guide to the flight calls of 211 species of migratory landbirds in eastern North America contains audio recordings, spectrograms, and information on migration and calling behavior.
Cost for each is $35 US dollars plus shipping.
Orders may be made within the USA and Canada by sending a check or money order for $40 USD/CAD and your mailing address to:
Bill Evans
PO Box 45
Ithaca, NY 14851
(address updated January 22, 2015)
Make check payable to Bill Evans.
For further information contact admin@oldbird.org